1959 Indupro AG is founded by Felix Frutiger as a commercial enterprise.
1960 The firm moves into its first offices on Bahnhofstrasse in Zurich. Start of commercial products in the chemicals sector.
1965 Move to Glattbrugg. Expansion of the range of products, above all in the packaging sector. Becomes an agent for the American products from SIGNODE, PASLODE, BORDEN CHEMICAL. Parallel with this, Hi-way rolling scaffolding from the English manufacturer Martin Thomas are established in Switzerland and motorised suspended scaffolding as well as façade access systems are offered. Sales are extended to cover all of Switzerland.
1972 Move to Dietlikon, where the growing company has more offices, storage space and workshops.
1980ies Establishment of the rental service for aluminium rolling scaffolding and motorised suspended scaffolding in Zurich, with delivery and assembly service.
1990ies Rental depots opened in the greater Basel region and Bern with delivery and assembly service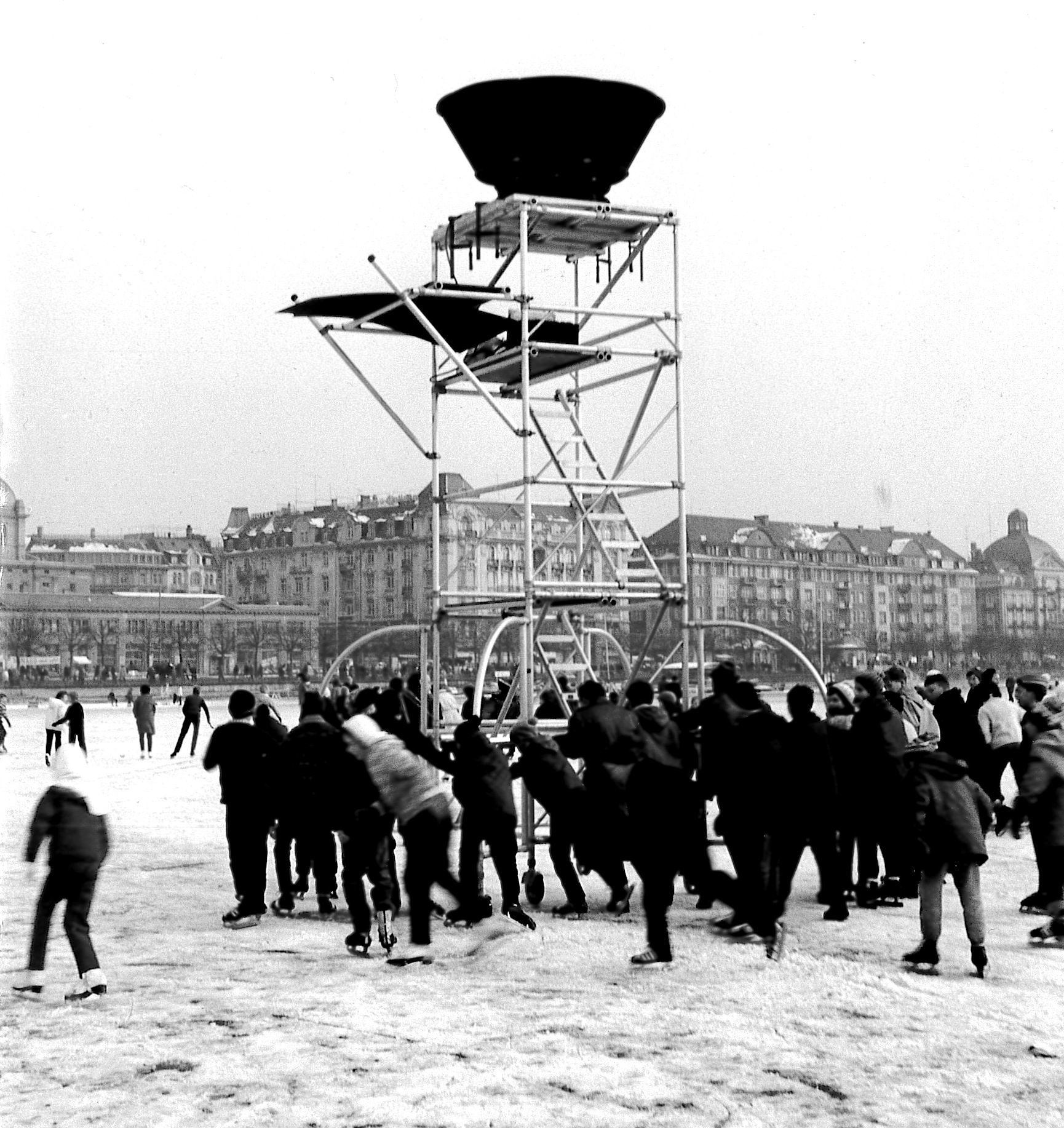 Lake Zurich frozen over in 1963 – INDUPRO Hi-way stair tower for Swiss TV
From 2000
Cooperation with partner companies in Valais, Grisons and Ticino.
Becomes an agent for the Belgian firm of Teklite, mobile lighting for fire brigades, police, army, etc.
Resumption of the work platforms sector, with work platforms with scissors and articulated booms
Go-live of our first web sites with a shop for ladders
Inclusion of various new products for industrial safety
Introduction of training courses, scaffolding and ladder inspections
Conversion to SAP Business One
Joined VSAA/ASFP (Association of Swiss Working Platform Suppliers)
Training centre IPAF (training operators of work platforms)
Establishment of our own workshop for service and repair work on work platforms
Today
The firm is split into three main divisions: scaffolding/work platforms, lighting systems and packaging systems.
The rental and sale of aluminium rolling scaffolding, work platforms and other equipment has developed into our core business. We can offer a comprehensive rental and sales service for both companies and private persons throughout Switzerland.
Our scaffolding centres in Dietlikon, Bern and Basel stock a wide range of materials and machines for hire; you can even collect these yourself.
Complex access situations call for not only specialist know-how but also the necessary equipment. We can offer a number of special parts and model-specific accessories and are here to advise you at all times.