Our offer
Indupro AG offers both companies and private persons a comprehensive range of equipment for hire throughout Switzerland. We have our own warehouses for hire goods in Zurich, Basel and Bern as well as warehouses for rolling scaffolding on our partners' premises in Grisons, Ticino and Valais.
We constantly stock a wide range of materials and machines for hire in our depots; you can even collect these yourself.
Rental service
Rolling scaffolding and large-area platforms of aluminium
Motorised suspended scaffolding for façades and chimneys
Special maintenance platforms for dams
Self-propelled work platforms with scissors or articulated booms
Hand-propelled micro-scissors lifts
Truck-mounted aerial work platforms up to 3.5t
Lighting trailers for construction sites and events
Mobile lighting masts on tripods
Services
Delivery and collection of the equipment
Assembly, relocation(s) and dismantling
Flexible discounts for long-term rentals
Professional advice over the phone or on site
Profit from our many years of experience
Rental charges
All of the equipment we offer for hire is shown online with a rental charge. We differentiate between the following two rental tariffs:
Weekly rental charge (scaffolding, motorised suspended scaffolding and ladders)
Daily rental charges (work platforms, material lifts and lighting)
Every product page has an info panel with details of the corresponding rental tariff in each case.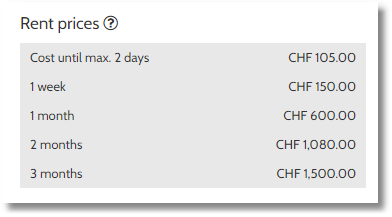 Discounts
The longer you hire a product from us, the more favourable the terms we can offer. The various applicable discount rates are saved for each product. The rental charges for a certain rental period can be read off directly in the info panel.
Rental offer and reservations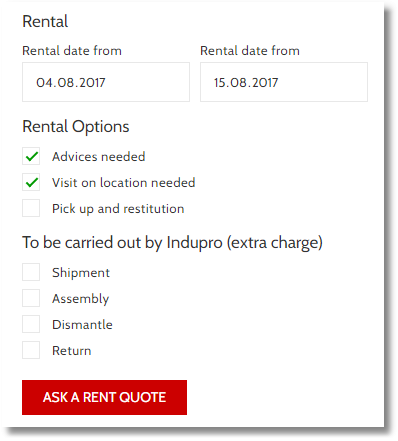 Please feel free to request further information and advice for special and complicated projects. Once you have found the product you want to rent you can reserve this directly online and request a non-binding rental offer in advance.
It doesn't matter if you have a question, need help, want to request a quote or make a reservation; simply use the red "Request rental offer" button that can be found on every product page. It goes without saying that you can also contact us over the phone; we will be happy to call you back if you so wish.